Sales catalogus
If you are interested in the purchase or exchange of any of the following listed brochures please feel free to contact André Pol of Citroën André & Partners.
CXA Owner's Manual
CXA Owner's Manual and Maintenance Guide for all CXA 25 EFI models. New and unused. Owner's Manual and Maintenance Guide have both 76 pages. The Manual measures 15 x 21 cm's (closed), the Guide 10 x 15 cm's (closed). These two manuals came with all new USA CXA models. They are based on the original manuals as published by Citroën France for the English speaking countries. The Manual has reference code MAN003USA; the Maintenance Guide MAN004USA.
Price: €15,-
(for both manuals)
Glossy CXAuto Sales Catalogue
Glossy CXAuto CX sales catalogue. 12 Full color pages, 23.0 x 30.5 cm (folded). Covers the CXA Prestige, GTI and Estate models. This very collectible catalogue is new and unused. Printed in the USA 1988.
Price: €35,-
CXAutomotive Catalogue / Folder
"The New Citroën CX". CXAuto,Inc. started as CX Automotive in 1979 and this was one their first brochures/folders. It was used to mail offers and documentation to prospects and press-releases. At that time CX Automotive still used the original Citroën sales catalogues. In 1987 Cx Auto started to print their own catalogues and manuals on the CX. Printed in the Netherlands 1986.
Price: €15,-
"In pursuit of happiness.... drive a Citroen!"
Black and white, 1959, Very early and rare Citroen sales leaflet, 21,5 x 28 cm. "You'll ride on air for the rest of your life !" Perfect shape. Printed in the USA
Price: €12,-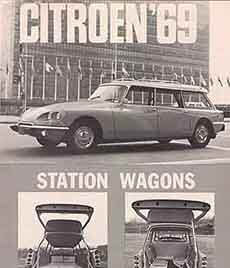 1969 Citroën Station Wagon brochure
Two color (black on grey) leaflet on USA model D-21 Wagon. 21,5 x 28 cm, printed in the USA.
Price: €12,-

1971 DSpecial, DS 21 and DS 21 Pallas
Full color Citroën sales catalogue for US market. First US brochure for the DS with restyled dasboard. Excellent condition. Printed in the USA, January 1971. (Code 1-71-120M). Citroen code WAN17D4.
Price: €20,-
1969 Citroën ID 19 brochure
>4 pages, 2 colors (black on light blue), 21,5 x 28 cm. Printed in the USA. Detailed explanation about Citroën's hydraulic suspension; "What can you learn in ski school about buying a new car?" Changes and technical details for the '69 modelyear; "We've made changes in the new Citroen", "But don't get the idea we're just another pretty face". Printed in the USA, 1969.
Price: €12,-